News
Nigeria @ 57: South South Group condemns use of Black Money in Politics
By Miracle Enuji
The South South Reawakening Group (SSRG) has condemned financial inducement and the use of black money in the political process of Nigeria.
Speaking at a Press briefing in Warri to mark the 57th Independence Anniversary of Nigeria, the convener of the group, Mr Joseph Ambakaderimo noted that the chief cause of corruption which is the bane of Nigeria is traceable to the political parties who trade their platforms to questionable politicians.
According to him, these politicians with the use of black money buy their way to becoming the standard bearers of the political parties from where they rig themselves into power.
In his words, "Never again should we as a people elect persons with baggage into offices in this country. Although the political parties have the responsibility to present candidates representing the parties, the truth is that oftentimes they do not pay attention to issues of credibility of the candidates that become the standard bearer of the political party."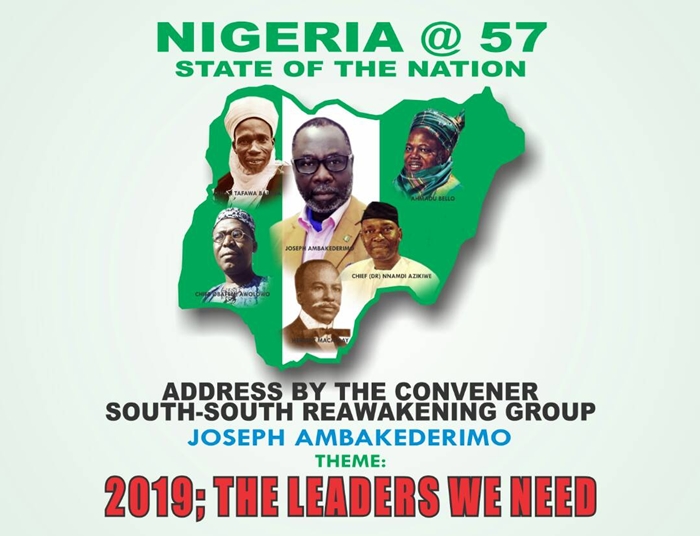 "The political parties would prefer a person that we can refer to as a Ragamuffin, one that can command the control of miscreants that could be used to snatch ballot boxes or unleash mayhem at polling centers or collation centers or stuffers of ballot boxes rather than resourceful persons with integrity. The craze to win at all cost just to be in power is taken more seriously by the political parties than actually the need to provide good governance to the people. 
"Going forward, we are all aware that the burden of nominating candidates to vie for elective office lies with the political parties via various court pronouncements, therefore the political parties should do more to ensure that effective mechanism is put in place to ensure that credible and trustworthy persons emerge from the primary process.
"Another way to ensure the emergence of credible and trustworthy persons is to avoid monetary inducement from corrupt aspirants who employ the use black money to induce party executives to get their ways through and force themselves on the electorate."
Ambakaderimo also charged Nigerians to always hold their elected representatives to account as they are the ultimate authority in a democracy. He concluded by stating that it is incumbent on Nigerians to join the group in its self-imposed task of assessing the character and track record of persons who come out to seek for the mandate of the people.
"The race to the 2019 general elections has started and as we make progress into the year going forward the tempo of political activities increases. The electorate meaning the Nigerian people must be vigilant and become interested in persons who put themselves forward to seek their votes. When voters become vigilant, the political parties themselves becomes mindful of the integrity of the people they present to the electorate
"We need leaders that will create actionable results, presently we have  a lot of rotten people whom we hear are positioning themselves for elective office at various levels. We make it known today that the south south reawakening group, has given itself a mandate to engage in campaign to expose the ugly past of these persons. We need to educate the Nigerian electorate the danger inherent in voting for such persons that comes with extra baggage. It is a task that we have set for ourselves and it shall be done."