News
Election Victory: Hon Onwo Holds Thanksgiving As Okowa Charges Political Leaders To Submit To God
The Member Representing Isoko South 2 Constituency in the Delta State House of Assembly, Hon Chief Ferguson Onwo on Sunday, August 4, 2019 held a thanksgiving service to celebrate his victory in the general elections and successful swearing in as a member of the state legislature.
The Delta State Governor, Dr Ifeanyi Okowa at the ceremony held at St Mathew Anglican Church Olomoro, Isoko South Local Government Area, stressed the need for those in leadership positions in the country to submit themselves to the will of God.
Dr Okowa acknowledged that the nation is facing some challenges and urged all to always draw their strength from God as without Lord Jesus Christ they can't do anything.
The Governor while addressing the congregation at the service said no leadership position was too small to make an impact, stressing that the society needs God's fearing leaders to change the negative narratives to positive development.
He expressed optimism that solutions to the many challenges was near and enjoined Christians not to relent in their prayers for God's intervention, emphasizing that what Nigeria requires today is continuous prayer as God is able to turn things around for better.
Dr Okowa stated that his administration was determined to building a stronger Delta State, even as he called on every stakeholders in the good governance and development of the state to redouble their efforts towards achieving the set goal.
The Governor congratulated Hon Ferguson Onwo and family for holding on to God for all they do, stressing that the thanksgiving service will bring forth more bountiful blessings to the family, the Olomoro Community and Isoko South 2 Constituency at large.
He charged the people of Isoko nation to remain united and support their sons and daughters in government to succeed.
In his remarks, Hon Ferguson Onwo said he took the longest route to the Delta State House of Assembly and commended Governor Ifeanyi Okowa, his constituents and all those that made it possible for him to actualize his dream to the House of Assembly.
Hon Onwo while thanking God for the success stories, assured the people of Isoko South 2 Constituency that he will reciprocate by giving them quality representation.
He called for their support and prayers at all times.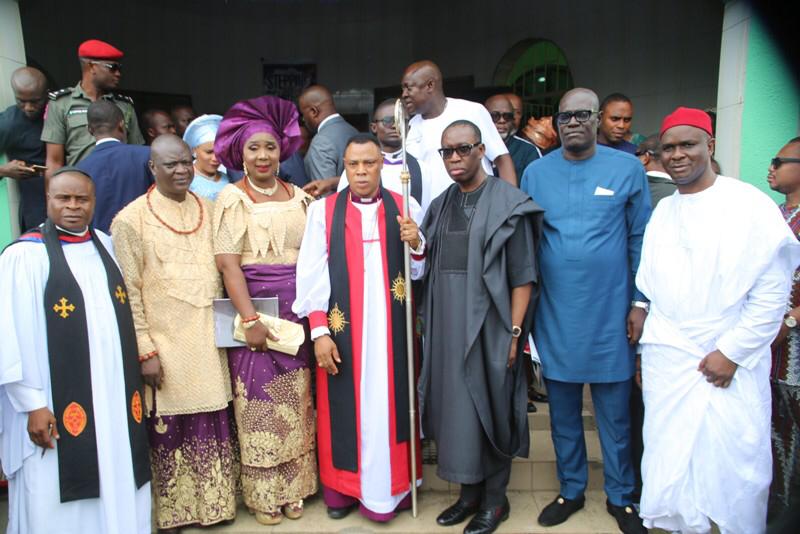 Earlier in a sermon, the Vicar of St Mathew's Anglican Church, Olomoro, Ven Robert Oziwele, charged political office holders never to abuse the grace from God, urging all to see their positions rare privilege and honor from God.
The religious minister stated that in a country where there is too much injustice, insecurity, nepotism, lack of fear of God and so much hunger, where the masses mean nothing to those in power, God has call them to serve and they should strive to uphold His trust.
He told Hon Onwo that God will be more satisfy  seeing him doing the purpose He has given him the position to represents Isoko South 2 Constituency which was given to him on thrust.
The Bishop of the Anglican Diocese of Oleh, Rt Rev John Aruakpor congratulated Governor Ifeanyi Okowa for his reelection and for the development strides across the state, including appointments to Isoko sons and daughters, even as he called for more of such appointments.
The high point of the service was special thanksgiving by Hon Ferguson Onwo and family joined by the Governor, top government functionaries and other well wishers.
The thanksgiving service attracted dignitaries from all walks of life, including members of the Delta State House of Assembly, Civil Commissioners, Captains of Industries, Traditional and Community Leaders, other top government functionaries among others.
A reception was later held at Owholemu Primary School, Olomoro to celebrate the electoral victory where guests were entertained with several Isoko Christian music.
Those who spoke extolled the leadership qualities and philanthropist lifestyle Hon Ferguson Onwo and commended him for his commitment to the growth of mankind.