Politics
APC Set To Take Over Oshimili North Constituency As Okonmah Joins Race For Rescue
By Patrick Ochei
There was a strong political indication on Tuesday 7th August, 2018 at Illah in Oshimili North Local Government Area of Delta State, during an APC Delta North Rally, where the party made a statement of determination and strength to dethrone the PDP and take over governance of the State, Senate and House of Assembly.
Particularly, the APC harped on her strength to commence a political upsurge from Illah, being an APC stronghold since the formation of the party.
The Host of the Rally that had Dr. Marian Alli and other state officials of APC in attendance, Barr. Joseph Adimabua Okonmah meticulously opened the eyes of indigenes and visitors to the wanton marginalization of Illah community by the ruling PDP.
Okonmah affirmed the resounding success of the Rally, harping it on the progressive effort towards the reconciliation and harmonization of the Delta North APC, which he said made the Rally possible and as a platform to launch APC out in Delta North Senatorial District.
Stating conspicuously about the degradation and isolation of Illah from the scheme of things in the state, Okonmah posited on the need to deliver Oshimili North Constituency to APC, as the only capable political platform to cause a positive change in the life of the people and various communities that make up the Constituency.
According to the well accomplished lawyer and PR expert, "Our people have been so neglected. It is very glaring, while coming into Illah you start noticing we are being cut off developmentally. There is basically no development in Illah or evidence of what you can attribute to state government's presence in the community. There is no electricity in the past one year, not to talk of pipe borne water or good road. If the transformer serving the community is not good, is the best thing to do not to install another?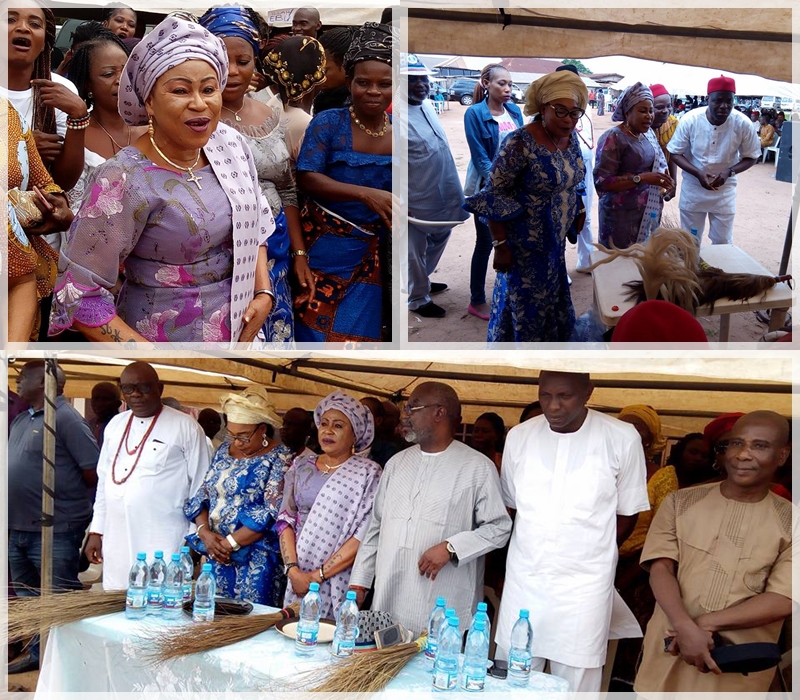 Basically, we are in this race for service and quality leadership. There must be difference between well groomed leaders and touts in politics. We must begin to engage our people to see how we can enthrone a true democracy that can address poverty, develop our communities and provide basic needs for the healthy living of our people.
I want to challenge any sane person from this Constituency who can truly attest to adequate representation that is anchored on positive development to speak up; otherwise we must face the reality by demanding a change of government and representation. PDP, having been on the saddle for close to two decades is without tangible dividends of democracy. Therefore, it behoves on us to stand up and demand for a change.
I am making myself available for this fight. I trust in God to see me through and my people to join forces with me. We must work in unity of purpose and unflinching synergy to be able to overrun PDP in the Local Government and by extension the state. I trust my people in Illah because they have always stood by what is right during elections. We are strongly APC, always defeating the PDP even when they go back to change the results. But this time, we are taking the fight from here to other units and wards of the LGA."
Barr. Okonmah further vowed to continue to make commitments to the Anioma Agenda for gubernatorial race. He affirmed that the Anioma extraction of Delta State must complete the constitutional cycle of second term for Governorship, adding that he would always remain resolute on that, even as a progressive crusader.
The Rally was attended by the APC Delta North Senatorial hopeful, Dr. Mrs. Marian Nneamaka Alli (Enyi Kpakpando), who strongly solicited the support of Anioma people to wrestle power from the incumbent Senator and also urging Oshimili North people to do same with Okonmah. She affirmed there is no faction in APC, maintaining that now is the time to work in harmony to domicile the change agenda in Delta North and by extension the State.
Also speaking were the following APC bigwigs, Engr. Precious Enus (State Official), Dr. Ken Mordi (Mrs. Alli's DG), Mr. Emmanuel Obanya (APC Oshimili North Chairman) and Mr. Ikechukwu Udu (APC Ward 3 Illah Chairman) who centred their goodwill messages on the surety of APC taking over in Delta State, Delta North and Oshimili North Constituency in particular, as an evidence that the change train has berthed in Delta.
Other party stalwarts who gave their goodwill messages in support of the aspirations of Enyi Kpakpando and Barr. Joseph Okonmah, while urging the people to up their political game and brace up to the challenge of dethroning PDP, included Barr. Okeze, Dr. Chris Ugo, Ogbueshi Ngozi Ashikodi, Ogbueshi Onuora Ezeudo, Hon. Sylvester Ossai, Madam Edith Oputa, Mr. Chuka Nwabuonwo, Mr. John Azike, Mr. Tony Chime and others too numerous to mention. More importantly, a passionate elder, Ogbuenyi Uwanekwuke Onwuka prayed for Dr. Marian Alli and Barr. Joseph Adimabua Okonmah, wishing that their heart desires are granted them as they set out to rescue their people from bad leaders.